Søndag d. 8. april
30. marts
Team Haas F1 forlænger med Maini og Ferrucci
Team Haas F1 har I dag meddelt, at det amerikanske team bibeholder både Arjun Maini og Santino Ferrucci som teamets juniorkører for endnu en sæson.
Ud over deres forpligtelser som juniorkører, er begge de unge talenter under kontrakt med Team Trident som deltager i dette års Formel 2 mesterskab.
Haas teamchefen Guenther Steiner sagde i dag "Arjun havde en formidable og gennembrydende sæson I GP 3 sidste år og vil vil følge hans udvikling i F2 med stor bevågenhed" og Guenther Steiner forsatte "Vi er også glade for at kunne have Santino hos os igen og vi ser frem til hvordan han udvikling sig i F2.
Formel 2 som I dag høre under Federation Internationale de l'Automobile (FIA), er en af de bedste platforme, som kan lede unge kørere som Maini og Ferrucci til en karriere I formel 1.
I 2018 er der ikke mindre, end 24 løb i Formel 2 mesterskabet. Løbene er fordelt over 12 weekender som alle afholdes I forbindelsen med Formel 1 weekender. Første afd. afholdes 7-8 april i Bahrain. Der på kommer D. 28-29 april i Azerbaijan, 12-13 maj i Spanien, 25-26 maj i Monaco, 23-24 juni i Frankrig, 30 juni - 1 juli i Østrig, juli 7-8 Juli i England, 28-29 juli i Ungarn, 25-26 August i Belgien, 1-2 , September i Italien, 29-30 September i Rusland og sidste afdeling køres i weekenden d. 24-25 November i Abu Dhabi.​
Tirsdag d. 6. marts
Barcelona Test 2 - Dag 1.
| | | | | | |
| --- | --- | --- | --- | --- | --- |
| 1 | Sebastian Vettel | Ferrari | 1m20.396s | - | 171 |
| 2 | Valtteri Bottas | Mercedes | 1m20.596s | | 86 |
| 3 | Max Verstappen | Red Bull/Renault | 1m20.649s | | 130 |
| 4 | Lewis Hamilton | Mercedes | 1m20.808s | | 91 |
| 5 | Pierre Gasly | Toro Rosso/Honda | 1m20.973s | | 54 |
| 6 | Kevin Magnussen | Haas/Ferrari | 1m21.298s | | 95 |
| 7 | Nico Hulkenberg | Renault | 1m21.432s | | 48 |
| 8 | Carlos Sainz | Renault | 1m21.455s | | 91 |
| 9 | Sergey Sirotkin | Williams/Mercedes | 1m21.588s | | 42 |
| 10 | Sergio Perez | Force India/Mercedes | 1m21.643s | | 93 |
| 11 | Marcus Ericsson | Sauber/Ferrari | 1m21.706s | | 120 |
| 12 | Stoffel Vandoorne | McLaren/Renault | 1m21.946s | | 38 |
| 13 | Lance Stroll | Williams/Mercedes | 1m22.937s | | 86 |
Alle tider levret af Williams Martini Racing
Onsdag d. 28. februar
Cataluya day three ©Renault Sport Formula One Press
Lørdag d. 21. oktober
Vi er tilbage med danske F1 Nyheder i 2018.
Vores ambitioner om at overgå til engelsk, (Med det afsæt at vi kunne nå ud til en bredere læserskare), har vist at være en for stor mundfuld, selv om vi har haft god støtte fra gode, men også ærlige kræfter. Vi har derfor valgt at udsætte vores engelsksproget projekt til senere.

Samtidig har vi erfaret at en af vores "konkurrenter" desværre har tabt pusten på ny. Vi har været i kontakt med den hollandske ejer, og vi kan konstatere, at det lave aktivitetsniveau har flere uafhængige årsager, men ejeren ønsker at opretholde et dansksproget site.

Vi har allerede i foråret argumenteret for vigtigheden af min. To uafhængige danske Formel 1 sites (Ikke afhængig af de etablerede danske Bladhuse eller Tv-stationer). Men nu, er vi desværre tilbage ved udgangspunktet i foråret.

Det betyder, at vi på www.formel1-nyhederne.dk nu genoptager vores eget projekt. Vi går således i gang med en businesscase allerede i uge 43/44. Vi kan dog allerede nu fortælle at samarbejdet med The Cahier Archive alias www.f1photo.com forsætter ind i 2018.

Hvornår vi er klar til at gå på, med fuld dækning er for tidligt at sige, men vi tilstræber er være klar inden sæsonpræmieren I Australien d. 23 til 25. marts 2018.

I december vil vi også kikke efter én til to nye skribenter, mere herom senere. Men går du allerede nu med en lille skribent drøm, kan du benytte vore kontaktside og vi svarer alle.

Mens vi bygger den nye side op på ny, vil vi bringe hvad vi kalder "Three liners" altså nyheder på ca. tre linjer vedr. hvad der sker i Formel 1 lige nu.

_____________________________________________________________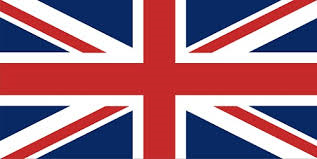 Red Bull comfirms Aston Martin as title partner from 2018
As exspected Aston Martin and Red Bull Racing have further strengthened their Innovation Partnership with the announcement that the Formula One team will compete as 'Aston Martin Red Bull Racing' from 2018.

The successful partnership, that has already produced the sold-out Aston Martin Valkyrie hypercar, will yield future products and an exciting new Advanced Performance Centre that will open on the Red Bull Racing campus in Milton Keynes later this year. The British luxury carmaker will also evaluate the opportunity to be involved in the team's power unit from 2021 after being asked by the FIA to join discussions on future engines for F1TM.

Aston Martin President and CEO, Andy Palmer, said: "Title partnership is the next logical step for our Innovation Partnership with Red Bull Racing. We are enjoying the global brand awareness that a revitalized Formula One provides. The power unit discussions are of interest to us but only if the circumstances are right. We are not about to enter an engine war with no restrictions in cost or dynamometer hours but we believe that if the FIA can create the right environment we would be interested in getting involved."

The relationship between Aston Martin, Red Bull Racing and AF Racing began in 2016 after the companies combined cutting edge F1TM technology and Aston Martin's signature sports car design to produce a ground breaking hypercar. The Aston Martin Valkyrie, which sold out on launch, is set to be the first in a line of incredible products to be borne of this Innovation Partnership will make its first run in 2018 before being delivered to customers in 2019.

The new Advanced Performance Centre, which will create 110 new jobs, will also house Aston Martin's second dedicated design centre and engineering personnel who will be working on future sports cars. The new centre will allow a closer working relationship between the two leading brands in their respective fields which will see the adoption of both F1TM and road car technology.
Friday 15th. September
McLaren Racing and Renault confirm partnership
Renault Sport Racing and McLaren Racing are pleased to announce they have agreed an engine supply partnership for the 2018, 2019 and 2020 seasons. The deal will see Renault Sport Racing supply McLaren with Formula 1 power units, while also establishing a close working relationship with McLaren's engineers and technicians.
Despite a combined Formula 1 presence that stretches back to 1977 (McLaren Racing has contested 814 GPs; Renault 591 in its role as an engine manufacturer), this will mark the first time that the two brands have ever collaborated.
For McLaren Racing, the reason for the partnership is evident: Renault has demonstrated its ability to build championship-winning engines, for its own team as well as customer teams.
For Renault Sport Racing, it provides the manufacturer with a second top-level Formula 1 team able to provide it with top-class feedback in relation to the development of its engine.
McLaren Renault is a partnership that will challenge for victory.
Jérôme Stoll, President of Renault Sport Racing:
"This is a strategic decision for Renault Sport Racing. It is the first time that Renault will work with McLaren and we are proud to have reached an agreement with an organisation that has such a rich Formula 1 history. This alliance is not only technical and sporting, but also comes with marketing and communication benefits. We know that McLaren will push us hard on track and this competition will be to the benefit of all."
Cyril Abiteboul, Managing Director, Renault Sport Racing:
"We are pleased to confirm a new partnership for Renault Sport Racing and McLaren Racing and excited to embark on this new relationship of these two historic brands in Formula 1 cooperating together for the first time. This agreement is perfectly in line with our mid-term strategy and with our objective to be in a winning position as a team in 2020. We are looking forward to seeing the Renault brand on next year's McLaren and racing our new partners on track. McLaren is an inspirational team with two talented drivers which should not only support our engine development efforts but also act as a reference and an example in the ongoing construction of our chassis operations. This is an exciting new beginning with a championship-winning team that is hungry to return to glory."
Shaikh Mohammed bin Essa Al Khalifa, Executive Chairman and Executive Committee principal McLaren Group:
"Renault is a manufacturer that, like McLaren, has Formula 1 deeply woven into its DNA. It introduced the concept of turbo-charging to modern F1 back in 1977, has won Grands Prix with and without turbo power, and has been a consistent pioneer and developer of new technologies in Formula 1.
"And while a Renault-powered McLaren is a new and exciting concept in Formula 1, what's most important is that this partnership gives us the equal opportunity to compete alongside the other Renault-powered teams.
"At McLaren, we have the motivation, the desire and the resource to be a competitive force in 2018; now Renault power gives us the ability to take a significant step further up the grid.
"Today's announcement starts a fresh chapter in the McLaren story – and we can't wait to get started."
Zak Brown, McLaren Technology Group Executive Director:
"Today's announcement gives us the stability we need to move ahead with our chassis and technical programme for 2018 without any further hesitation.
"As an organisation, McLaren has always worked extremely hard to form lasting partnerships with its technical suppliers. We're convinced that we can bring real value to Renault Sport Racing as we work alongside it to develop this current power unit into a regular race winner."
Renault Sport F1 announce Carlos Sainz for 2018.
Carlos Sainz Jr. ©Cahiier Archive. www.f1photo.com
Twenty-three year-old Carlos has raced in 53 Formula 1 Grands Prix since making his debut at the start of the 2015 season in Australia. To date he has scored 100 points, with a best finishing position of sixth achieved four times. Prior to Formula 1, Carlos won the Formula Renault 3.5 Series in 2014 as well as the Formula Renault 2.0 NEC championship in 2011.

Cyril Abiteboul, Managing Director, Renault Sport Racing: "Carlos Sainz is a very promising driver who has been on our radar for some time, especially after his successes in Renault junior formulae. It is positive news for us to be able to confirm Carlos for 2018. This choice is well aligned with our mid-term strategic plans. We feel that Nico and Carlos will complement each other on and off track and the combination should help us push forwards on the grid. I would like to thank Helmut Marko for loaning Carlos to us for this period. We must thank Jolyon for his ongoing hard work with the team and his efforts over the past two seasons. He is a dedicated driver and we wish him the best in the next steps of his career."

Carlos Sainz: "I'm very happy to be joining Renault Sport Formula One Team. To be a Formula 1 driver for a manufacturer team is an honour and I hope to reward Renault's faith in me with my very best performances on track. The trajectory of Renault Sport Formula One Team is exciting and I'm proud to join at such an important time in their history. I am looking forward to working with everyone at Enstone and Viry, and driving alongside Nico Hülkenberg. I have worked closely with Renault in Formula 1 and previously in motorsport, so I know their motivation and capabilities. This is the start of a very exciting new chapter in my career. I would like to say thank you to Red Bull for all their confidence and support and for allowing me to take this opportunity. Last but not least, I specially want to thank all the people that work in Toro Rosso. They are a fantastic team of professionals and I wish them the best for the future."

Dr Helmut Marko, Red Bull Motorsport Consultant: "We are happy to have reached an agreement for Carlos to drive for Renault Sport Formula One Team in 2018. He is a tremendous talent and he will benefit from working with a manufacturer team alongside a highly experienced driver. This will give Carlos a different challenge and we will be keenly watching his progress there as he remains part of the Red Bull family. This is very good development for both Carlos and Renault Sport Formula One Team and will also allow us to bring a new talent into Formula One."
Scuderia Toro Rosso ties up with Honda for three years
Scuderia Toro Rosso is pleased to announce that it has reached a multi-year agreement with Honda Motor Co. Ltd. to run Honda power units starting from the 2018 Formula 1 season.
Franz Tost (Scuderia Toro Rosso, Team Principal): "Everyone in our team is very much looking forward to working with Honda. Ever since its founder Soichiro Honda entered his motorcycles in events, racing has always been a central part of the company's ethos. It's a very exciting challenge and I hope that both parties will gain a great deal from it as we develop together. Honda has a long history in Formula 1, dating back to 1964 when it first entered the sport with its own team and, as an engine supplier it has taken five Drivers' World Championship titles and six Constructors. This heritage, together with the full confidence that we have in Honda's capabilities to succeed, make me strongly believe that we will achieve a fruitful future together.'
James Key (Scuderia Toro Rosso, Technical Director): "We are very pleased with our new partnership with Honda and the opportunities this presents, and we start to work immediately. It will be a question of adaption of our plans rather than a wholesale change and we are in the process of re-planning our design and production activities in conjunction with Honda to ensure that we both hit all our important deadlines.
There are some challenges to face given the time of year but Toro Rosso has faced many difficult tasks with timing in the past and has the flexibility to deal with it. We will be working hard not to only re-design the PU installation but also ensure that this has minimal or no effect on the ongoing development work for 2018 – that is our current target. The architecture of the car will change in line with the PU requirements and our chassis and gearbox designs are currently under review to be adapted accordingly, similarly we will be working closely with Honda on the performance aspects of the PU installation that the chassis will influence to ensure we maximise the potential of the package as a whole from the outset. We look forward to a strong, stable and proactive partnership with our colleagues at Honda."
Takahiro Hachigo (President & Representative Director of Honda Motor Co., Ltd.): "Toro Rosso is an experienced team with a youthful energy and history of nurturing the stars of the future. Everyone at Honda is looking forward to working with Toro Rosso, and we are excited to start this new chapter in our Formula 1 journey with them.
I would like to express our appreciation to Liberty Media and the FIA for their cooperation toward the realization of this partnership. Honda and Toro Rosso will work as one team to strive for progress and a successful future together. We appreciate the support of our fans as we begin this challenge."
Monday 11th. September
Sauber F1 Signs a one race deal with Flex-box
Sauber F1 Team today announce a one-time race partnership with Flex-Box at the upcoming Singapore Grand Prix. Flex-Box is a global company, which specializes in manufacturing shipping containers. During this year's Singapore Grand Prix, the Flex-Box logo will appear on the sides of the monocoques, as well as on top of the noses of the two Sauber C36-Ferrari.

The Hong Kong based company has over 15 years of experience in shipping container development and manufacturing, Flex-Box is an international leader in the industry. Flex-Box is not new to formula One. The company was a sponsor of Manor F1 in 2015.
Thursday 7th. September 2017

Looking back on the last three days. We have seen an unspiritual U-turn from the Red Bull major management.
The unexpected news could indicate that the young Spaniard Carlos Sainz Jr. could actually be on the move. The big question is where to? A move to Renault is possible but what's the point hs or even to McLaren and that's what makes the rumors must interesting.

Shortly before the summer break Toro Rosso driver Carlos Sainz Jr. indicate, that 2017 would be his last season with the Faenza based team. Strongly indicating that the young talented Spaniard was prepared to move on.

But the young Spaniard words immediately propelled by notably strong words from Red Bull's Christian Horner and not least Dr. Helmut Marco who said, "You don't bite the hand that feeds you".

From Christian Horner's point of view, it was even more clear if possible "Without us "Red Bull he wouldn't be sitting in an F1 car."
After the "dispute of words" Carlos Sainz Jr. had a busy time claiming that he is committed to Toro Rosso and Red Bull and that he would be staying at Toro Rosso for yet another year.

But late Tuesday this week (5th. September) Dr. Helmut Marco quite suddenly indicated that the young Spaniard could be on the move. And maybe even to McLaren. At first, it's sounds completely impossible! But think again! Dose it really.

Red Bull holds a contract with French engine maker regarding an engine supply for 2018 for its junior team "Scuderia Toro Rosso".
But after the Italian Grand Prix it has become clear that a split between McLaren and Honda is imminent. The split has been on the cards for some time, so should it happen (And it will) What will happen next.

If Renault moves in at McLaren Fernando Alonso would stay for sure, which is Beyoncé doubt what's the Working based team wants. On the other hand, Red Bull would ask for a handsomely repayment in order to hand over the Renault engine supply deal, originally intended for Toro Rosso for 2018.

So, what may be on the cards. Toro Rosso gets Honda power and all the money that goes with. On the other hand, McLaren and not least Alonso gets the young talented Spaniard Carlos Sainz under his wings.

Apparently, a deal like that would leave newly signed Belgian McLaren driver Stoffel Vandoorne without a drive next year. But once more! Think again! Did young Vandoorne sign a contract with McLaren Racing or McLaren "Honda" If the latest. The talented young Belgian would still be under the wing of McLaren, but racing for Toro Rosso Honda.

Carlos Sainz Jr. on the other hand will be racing for one of the best Formula 1 teams in 2018 while the ownership of the young Spaniard would still belongs to none other than "RED BULL"
To make an arguement about that, would be really stupid wouldn't it?
Sunday 27. August
Hamilton beats Vettel to Spa win
Lewis Hamilton beat his World Champion rival to victory in the Belgian Grand Prix to reduce his gap in the Formula 1 world championship to just seven points. Red Bull driver Danniel Ricciardo save the day for his team as he took the last place on the podium. The smiling Australian made the most out of at the re-start after the Safety car period.
Saturday 26. August
Lewis Hamilton takes Pole in Belgium
Hamilton thanks the three pointed star for his Pole No. 68.. © Pirelli Press
M

ercedes driver Lewis Hamilton set pole position for the Belgian Grand Prix with the fastest-ever lap of the Spa-Francorchamps circui. The Pole Position was Hamiltons 68

th

.
With this achivement Hamilton equaels Michael Schumacher Record. "I'm really happy and grateful. The past few weeks have been great and I've carried the positive energy from my holiday into this weekend. Until I crossed the line and got the pole I hadn't really realised that I had matched Michael's record. It's crazy to think that in 1996, when I was eleven years old, I came here to watch Michael - and now I've equalled his record.
I'm honoured to be up there with him now and starting the second half of the season this strong is an amazing feeling. I have not really had any bad laps this weekend. But it's going to be tight tomorrow. Ferrari's race pace looked good yesterday, so I think it will be a lot closer tomorrow. The rundown to Turn 1 is short, but pole is still the best position to start from. I will try to make it work tomorrow.
Sebastian Vettel qualified second 0.242 of a seconds slower than the english man. The german seems to be of the pace. but on his last qualifying lap he showed his true potiential.
His team-mate Kimi Raikkonen paid the price for a mistake in his last run, after having been consistently quick throughout the weekend, and had to settle for P4. Having aborted his lap, he helped Seb's final effort by giving him a tow through the last sector of the track.
Both Force India's made in to Q3 jet again and by now the Indian team are a seriously contender for the fifth spot in the constructors World Championship.
Force India's Chief Operating Officer Otmar Szafnauer, "We achieved the objective of getting both cars inside the top ten, which sets us up nicely for a strong race tomorrow. I don't think our final laps in Q3 were optimal and there was a bit more potential in the car, but the important thing is that we are well placed to score good points. We've focussed on setting the car up to race well and hopefully that will pay dividends tomorrow. The forecast suggests we will have similar weather tomorrow with a low risk of rain so if we can make a clean start we have every chance to convert our speed into a solid result for both cars "
A rear guest in Q3 was Jolyon Palme The young talented but struggling driver was happy with his car from the first laps of the weekend, but early in Q3 the Renault driver had to pull over with his Renault covered in blue/white smoke.
The French team are still investigating what went wrong with the gearbox. It's a real shame for Jolyon, without this incident he could have started from a very comfortable P7. He's had a very good, very straightforward and competitive weekend and it's truly unfortunate he wasn't able to make the most of his potential today, through no fault of his own.
Nico Hulkenberg on the other hand saved the day for the Frence outfit qualifying en sevent position.
"I'm very pleased with qualifying as I haven't been able to get the set-up exactly where I wanted it, yet I could still get a P7 time when it mattered. We were still working on set-up today as I haven't been able to find that sweet spot where everything's working at its best".
Outside Q3 we found McLaren Honda driver Fernando Alonso, who clearly wasn't happy (Again). Alonso rushed to the back of the McLaren team garage then approach by a TV crew. But even so the team made a magnificent job by make Alonso and Vandoorne slipstreaming each others trough Q1 and Q2. Which worked perfectly. But even so Alonso missed Q3 by no less than 0.405 seconds. So if a constitution, in this matter McLaren Honda want to keep one of the best F1 drivers the world have know. This is not the way!
Vettel exstends with Ferrari for another three years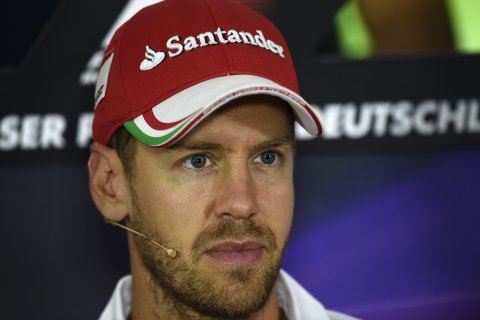 Sebastian Vettel will stay with the Scuderia Ferrari. ©Ferrari Press
Ferrari has corfirmed that Sebastian Vettel will say put for another three years. It was exspected that the german would stay with the Scuderia, but the question was, would it be for only one season or a three year deal as Ferrari wanted. So it seems that Maranello got it there way
Wendesday 23. August
Don Nichols 1924 - 2018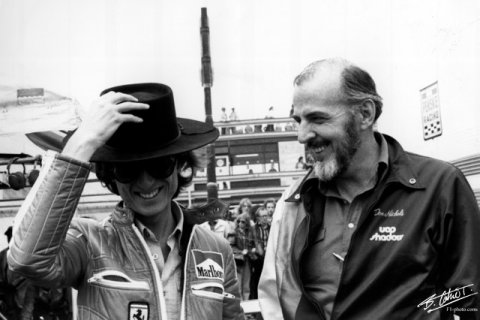 Copyright: The Cahier Archive
McLaren Honda confirms Stoffel Vandorne for 2018
McLaren Honda has today confirmed that Stoffel Vandoorne will continue to race for the team in 2018.
Stoffel Vandoorne: "I'm delighted that the team has now formally announced that I will continue to race for them next year, because I'll be able to approach the second half of my rookie season with total focus on the job in hand: namely getting the very most I can out of my car, my engineers, and everything and everyone around me.

"I've already learned such a huge amount in the first half of my first season in Formula 1 - from my engineers, from my mechanics, from Eric [Boullier], from Zak [Brown] and from Jonathan [Neale], and also from Fernando [Alonso], who is a brilliant driver and also an excellent team-mate.